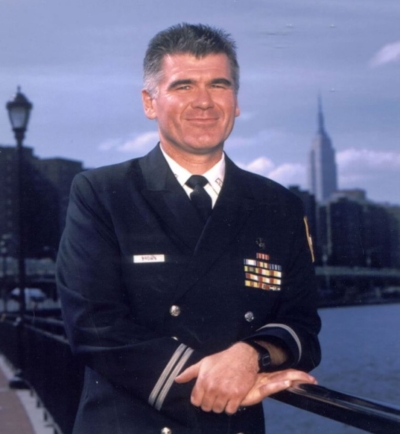 Captain Patrick 'Paddy' Brown
The chronic economic recession in the United States coupled with a military draw-down leaves many of our post-9/11 veterans extremely challenged to find adequate and fulfilling employment in what will soon be a post "War on Terror" period. This dynamic is contrary to the favorable opportunities that the veterans of World War II, the Korean War and event Vietnam enjoyed. Many of the young men and women who selflessly served our nation post-9/11 would greatly benefit from the opportunity to join and excel in the first responder services. First responder service affords our post-9/11 military veterans with a natural transition from the military to a similar response oriented profession deeply rooted in the virtues of service and sacrifice. The recession induced staffing cutbacks to the first responder services has made the entry process for these historically coveted occupations even more competitive. Our nation's post-9/11 veterans, the U.S. first responder services and our American communities would benefit greatly from a strategic campaign that offers veterans increased access to employment opportunities in the law enforcement, fire and rescue services. Currently no such campaign or holistic program exists.
Captain Patrick 'Paddy' Brown
The Paddy Brown Program honors the iconic legacy of Captain Paddy Brown of the FDNY who made the supreme sacrifice on 9/11. Paddy's transition from the battlefield as a U.S. Marine in Vietnam to the professional fire service fostered a lifelong commitment to public service.
Patrick (Paddy) J. Brown was born in Oak Park, Illinois on November 9th, 1952. His father, John, was an FBI agent and his mother, Ruth, was a talented pianist who gave piano lessons while raising her family. An FBI transfer brought the family to Queens Village, NY in 1953. Soon Paddy had a brother, Michael and a sister, Carolyn.
Paddy spent much of his young life in Queens and this is where his love of the fire department began.   As he grew he would spend many hours at a local firehouse.   He had a scanner in his bedroom and would respond to local fire calls on his bicycle.  He watched the firefighters intently and absorbed the ways of the FDNY. It's believed that Paddy was influenced to join the military by some of the veteran firefighters he spent time with. At 17 years of age, Patrick became a US Marine.  Persuading his father to sign a waiver allowing him a combat assignment, he went off to Vietnam.
Paddy became a highly respected and decorated Marine Sergeant, returning to New York after his tour in Vietnam.   Proud of his service to his country, but also haunted by his memories of combat, Paddy struggled to find his way.  He spent a number of years on the Fire Patrol as he settled in Manhattan and on December 17th, 1977 Paddy was appointed to the New York City Fire Department.
Now began the career of this legendary NYC Firefighter. His first assignment was Ladder 26 and after many years of experience Paddy joined Manhattan's elite Rescue Company One. Paddy soon traveled to Brooklyn to join RESCUE TWO. He was promoted to Captain at Engine 69, after many years of service. His final assignment was at the prestigious Ladder 3 on East 13th in the East Village.  Though this is where his time ended (on September 11, 2001) his legacy lives on in all the men and women who join the PBP to help fellow veterans make the same transition Paddy did successfully many years ago.
Sgt. William Cahir aka the 'Werewolf' was KIA by an insurgent's bullet while on foot patrol in Hellmand Province, Afghanistan on August 13, 2009.  The Paddy Brown Program honors Sgt. Cahir, a friend, husband, soon to be father and foremost a Marine.
Major Jason Brezler, the founder of the Paddy Brown Program and Leadership Under Fire, served with Bill on 'Team Yankee' in Fallujah, Iraq in 2006 and 2007.  Bill's extensive combat experience coupled with his strong intellect made him a trusted warrior and colleague.  By encouraging Brezler, his Commanding Officer, to apply the harsh lessons of combat to being a first responder, Bill was the impetus for these two programs that have gone on to serve the needs of many veterans.  The "Werewolf Initiative" was created to pay tribute to Bill's great service and ultimate sacrifice.  This initiative offers aid to post-9/11 veterans pursuing academic study pertinent to fire, law and rescue services as well as the opportunity to attend conferences and tactical training events at no expense.